Are you having an allergic skin reaction and aren't sure what the cause is? It may be time for you to take a look at what detergent you are using!
My mom has very sensitive skin and for the longest time she couldn't find the cause of her rashes. We originally thought the culpret was food, but unfortunately this was not the case. It was so hard to see my Mom so uncomfortable for such a long time!
Since I already have a skin condition called DSAP, I'm very cautious about my skin care, cleaning & laundry products so we finally he had the idea to switch the detergent we were using to see if that was the cause of my Mom's skin allergy.
And guess what… it worked! Although it did not relieve all of my Mom's symptoms it was clear that detergent was a major cause of her discomfort.
Doctors such as Dr. Jeanine Downie agree that detergent can be a major cause of skin allergies. If you are worried that this might be the case for you, there is no need to worry any longer! I have put together a list of 3 Common Symptoms that you will experience if you are allergic to detergent.
3 Common Symptoms That You are Allergic to Detergent
 1. An Uncomfortable Rash Will Appear
This rash usually includes dry, itchy, and red skin. If the rash is more severe the area will also swell.
2. You Will Sneeze an Annoying Amount and Have Itchy Eyes
This type of reaction tells you that your allergy is more severe because it was brought on by inhaling the soap particles while breathing.
3. Skin Will Be Hot to the Touch and You Will Have Blisters
This is the most extreme of the three symptoms and the most uncomfortable.
When looking at ingredients in detergents there are a few things to look out for. In fact there are 3 Common Allergens that exist in many of the mixtures.
Top 3 Allergens in Detergents
Sodium Lauryl Sulfate
This chemical breaks up the layer of oil on your skin that keeps it from drying out.
Fragrance
Many fragrances are hard to detect as an allergy because the products don't tell you exactly what the ingredients are. It is still one of the most common contact allergens in soap even though it doesn't directly contribute to cleansing.
Coconut Diethanolamide
It is actually more common for people to be allergic to coconut through touch than it is through ingestion. In detergents it is similar to sodium lauryl sulfate and breaks down the oil on your skin.
If you are experiencing one of the three symptoms, or using a product with the three allergens you having a reaction called dermatitis. Dermatitis is any inflammation of the skin that leads to redness, scaling, itchy or tiny fluid-filled blisters. It occurs when your skin comes in contact with a specific substance or chemical. Your body takes in the allergy through your skin and becomes inflamed. The most common cause of detergent allergies comes from fragrances and dyes.
It is ironic that something that is supposed to clean actually has the ability to irritate and harm your skin. Many times when it comes to detergent, the area that comes into contact through touch is the part that is actually having the reaction. However if the reaction is severe enough it will spread to areas that are not covered by clothing.
It is sometimes hard to tell the difference between different types of rashes. Ones that are caused by laundry detergent normally show up all over your body. But there are ways to prevent a reaction and treat your sensitive skin.
6 Treatments for Sensitive Skin
1. Use Histamine Administered Oral Antihistamines Gels or Creams
Second-generation Antihistamines are most commonly administered
Make sure to check out the side effects because some cause drowsiness, nausea, etc.
2. Use Topical Corticosteroids
Topical corticosteroids are classified based on potency
Results are best when it is used 2-3 times a day
3. Use Natural Remedies like Oatmeal
This is better if the reaction is occurring on a large part of your body
Put a cup of oatmeal in a tub of water to improve the dryness and itchiness of your skin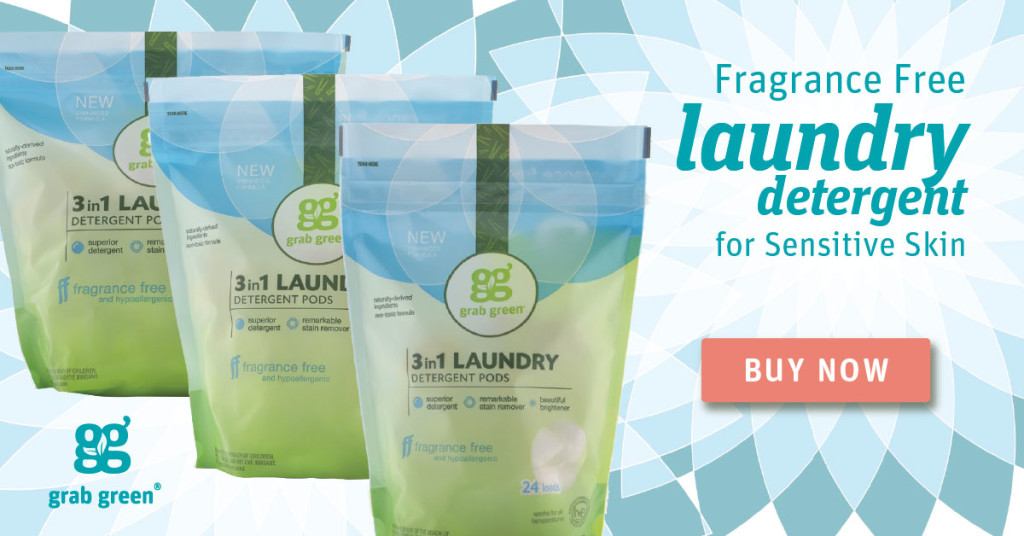 4. Switch to a Naturally-derived Detergent
5. Remove Laundry Detergent Residue Left on Your Clothing
Use less detergent to begin with
Use an extra rinse cycle
Add vinegar or baking soda
Look for detergent's that have a good 'rinseability' score
6. Avoid Dyes and Perfumes
If you are experiencing any skin allergy symptoms it is time to make a change! Take care of yourself, stay healthy, stay green.