For the last six months I've been collecting data from those with the rare skin condition Disseminated Superficial Actinic Porokeratosis. To my knowledge this is the largest collection of patient data in existence with over 250 surveys filled out. (I will be adding to this article as I have time to sift through and present the results, so keep checking back for more.)
Since DSAP is such a rare condition, most people don't actually know anyone else (except a family member) with the disease so gathering data is an important step in both understanding and coping with the disease (though it doesn't change anything, it feels better to know that others are sharing the same struggles as you are and you aren't on this journey alone).
DISCLAIMER- I am not a statistician, doctor or related to the medical field so if you see a statistic not properly presented, please note that I have done this at my own expense for the mostly selfish reason of wanting to find a cure! If you are in the medical field or can help in any way, please email me on Lorna@dsapinstitute.org
DEMOGRAPHICS
Gender
Not surprisingly, the majority with the condition are women.
Throughout the six months of data collection, this gender mix has remained constant.
Race
Also not surprisingly, over 99% of respondents are white/Caucasian. Is this because the survey was mainly presented to people in English speaking countries? Perhaps, but my guess is people with white skin are more prone to this condition. Over 12% of the US population is black, and their first language is English. But not a single person of the 170 who took the survey in the USA stated they were black. Also, there are enough English-speaking Asians in the UK and USA to get a sample result, but only 0.86% stated they were partially Asian.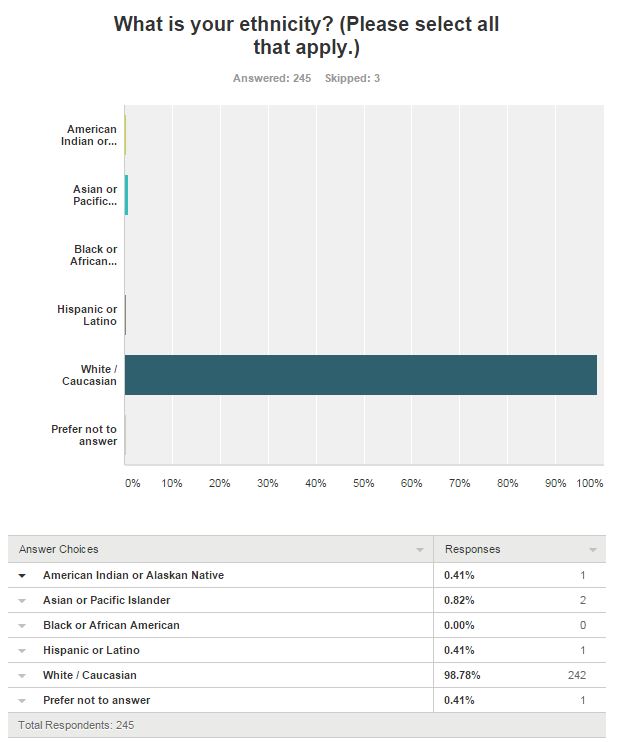 The stated ethnic origins of the white/Caucasians are (in order of prevalence)
English (majority)
 Irish
German
Scottish
Scandinavian (Swedish, Norwegian, Finnish, Danish)
Eastern European/Jewish
Age
78% of patients were diagnosed with DSAP after age 30 and 53% after age 40.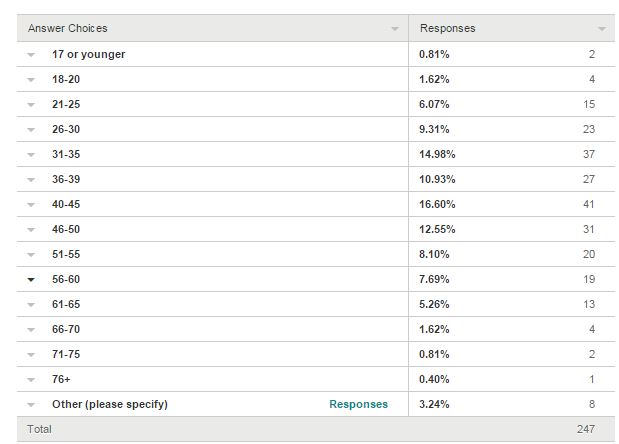 Where do you currently live?

FAMILY MEMBERS with DSAP
Over 70% of respondents say they have a family member with DSAP! Doctors have said for years that a child has a 50% chance of DSAP if one of their parents has the condition. 30% say it was their mother and 22% their father. I was surprised at this statistic since 80% of DSAP patients are female. "No" means that the respondent does not have a family member with DSAP. Here's the breakdown: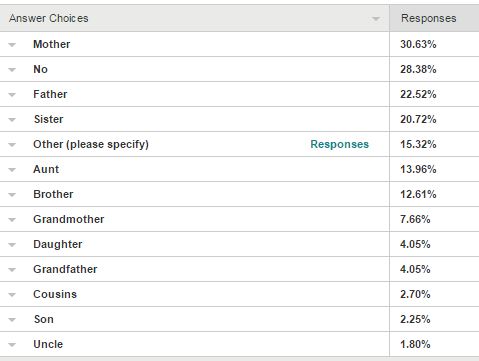 * Other- people explained their answer, it should  not have been presented as a choice.
Here are some interesting responses to this hereditary question:
"I am one of 9 children. 7 have DSAP."
"There were 8 children in my family of origin, and all of us had DSAP- from mild to moderately severe cases"
"Two out of three children have DSAP"
DSAP LESIONS- location & quantity
It seems that our DSAP lesions don't discriminate over which body part they invade. That being said, some areas are more conquered that others. Almost everyone cites arms, calves and legs as having lesions. Here's the breakdown:
Arms        93%
Calves     91%
Thighs     68%
Hands     52%
Chest       23%
Feet        19%
Back       16%
Face       15%
A few people reported: abdomen & ankles
Many of you may be worried over getting lesions on your face. I will make a note to go back to look at the responses of those who have them on their face to see if there's any correlation between length of having the disease and facial lesions.  (Are facial lesions one of the last one to appear? If you were diagnosed quite young, is there more of a chance that eventually you'll get them on the face?)  I suspect that might be true as 80% of respondents said their spots have increased over time, 16% have stayed the same and only 4% have decreased.
Regarding quantity of lesions, 90% said they have hundreds of lesions all over their body. Only a few respondents said they have less than 20. That being said, people who don't have a severe case, may not be as likely to seek out information on the internet and certainly not as willing to take a 10 minute survey. Here are some responses that were repeated many times.
I have too many spots to count. They are red, itchy, scaly, some become open sores then heal to red spots.
LESION FLARE UPs
Do any certain situations trigger flare ups? 14% said that nothing aggravates their lesions while 85% said there are.
Sun                   66%
Humidity/Heat   47%
Stress               22%
Cold                   6%
Plane travel        2%
SUN EXPOSURE
There has been a lot of debate about the sun and  if it makes DSAP spots better or worse. 88% claim that it makes them worse while only 12% indicate that it improves their spots. Many of the people who think it helps say during the summer they are more tan, and so the spots blend in.
Here are some of the comments regarding this:
"As long as I avoid getting too much sun I find that careful exposure really helps to calm the irritation down. I try to spend a few minutes in the sun every day as soon as it warms up enough in the Spring and then if I maintain my light tan I don't burn easily either. If I take asataxanthin regularly I am much less likely to burn and my skin is less irritated."
"Sun is better on arms but worse on legs. Better because the tan makes the spots look more even and not stand out so much."
"The lesions on my arm actually get better. When my arms tan, the lesions look less bad. My arm skin does get itchy and rough, but it doesn't look bad. In winter, the lesions on my arms turn whitish and look more like age spots. The lesions on my legs, however, flare up and get angry red in the sun. I have wanted to test my legs in the sun to see if they would do what my arms do, but I fear more will grow. They are so UGLY!"
"I believe these spots are areas infected and weakened by bacteria and so are defenseless against ultra-violet radiation. Respectively, these spot areas get severely burned by the sun, turn red and itch, similar to symptoms associated with sunburn. Less visible spots are affected the same way and, are subsequently revealed when penetrated by ultra-violet radiation. Once the spot area is damaged in this way, the new spot remains pronounced and so it appears that the sun is causing them, but is actually only a secondary contributor. In short I believe that DSAP is a systemic bacterial infection due to a compromised immune system, and that melanin may be the bacteria's true target. Therefore, the encrusted outer layer is not part of the bacteria, but is rather a protective layer that the body has created to try and prevent more damage. I further believe the root cause of the proliferation of the rogue bacteria is polyunsaturated fats. That's just my own hypothesis which is rooted in observation and the knowledge that all disease is now being linked to bacteria. I hope that gives you some food for thought as well."
Time Spent in the Sun
80% of respondents say that growing up, they spent "a lot of time" in the sun, while 20% did not. Those they did gave illustrations of what "a lot" meant to them. Here are some representative samples of the 140 comments, all were very similar to these:
"In summer, at beach almost daily. In winter, skating outdoors- quite sunny."
"I have red hair and had pretty severe sunburns during my childhood. Then in my 30s I used a sunbed before going on vacation I would go to a sunbed to try and build a base"
"Summer every day sunbathing with no sunscreen, and used baby oil to increase suntan"
"Lived in southern Africa and spent a great deal of time outside; Spent almost every summer at a lake or ocean beach 5-6 days/week"
"Summers growing up. Pool, beach and tanning beds in 20s and 30s."
 "Lived in Miami, Florida until I was 13."
"I live in Australia you can't escape the sun but I have never sun baked…always hunting shade."
HEALTH & DIET
Autoimmune Disease
While 66% of respondents do NOT have an autoimmune disease, 34% do! This is very high considering that only 8% in the general population (USA) have an autoimmune disease.
Of those that have autoimmune disease, 13% have a thyroid condition, including yours truly.
In order:
Thyroid disease
Rheumatoid arthritis
Psoriasis
Multiple Sclerosis
Type 1 Diabetes
Celiac Disease
Crohns Disease
Vitamin D Deficiency
Just over 13% said they have a vitamin D deficiency although I'm not sure how relevant this is as it seems that vitamin D deficiency is on the rise. It also appears that the level cited as deficient or healthy has changed over time. The vitamin D discussion comes up regularly among us DSAPers but for now I can't see a correlation. If anyone else has other data we can compare these results to that would be fantastic. Please email me on lorna@dsapinstitute.org
Cancer
uggg. The Big C, no one wants to hear this one, but, shockingly 18% of respondents said they have had or have cancer. On the bright side, 82% said they haven't. Another note to self is to compare the length of time those who have had cancer have also had DSAP.
Most people who had/have cancer had basal cell carcinoma and 8 people had melanoma.
Diet
Respondents were asked to describe their diet.
42% say they eat a healthy diet but don't follow any particular diet.
29% said they eat whatever they want
5% Low Carb
5% Gluten Free
4.5% Paleo/Whole food or raw diet
1.5% Vegetarian/vegan
"One person said, "Lately my spots are a lot lighter. I'm not sure if this has coincided with taking a lot out of my diet I've eliminated milk, meant and the one that has made a big difference in my skin overall has been the elimination of added sugar. I ave in to sugar a few days ago and the lesions got red again, but could be coincidence."
This statistic on it's own is meaningless unless I go back and compare it against some of the other variables and ask questions like "do people who eat a strict or special diet have a lower/higher incidence of having cancer or an autoimmune disease." This is in my list of 'to do's'
How has DSAP affected your life? What changes have you had to make?
The answers to this question was what most surprised me from this entire study.
Almost half stated that DSAP has gone from being one of life's nuisances to a real issue that has greatly impacted their self-esteem and course of life. Words like embarrassing, ashamed and depression came up numerous times.  Only 7%  had a positive outlook and the rest were neutral or matter of fact.
When doctors casually tell us to stay out of the sun and send us on our merry way, I'm not sure they realize how this condition affects not only our skin, but our self-esteem.
I am going to share some of the responses so that others, who may be feeling the same thing, will know that they are not alone. These are just some of the many similar comments that came in. They are unedited (except for spelling)
"DSAP has caused quite a bit of depression at times. When I let it get to me it feels like a prison sentence- no shorts, summer skirts, swimming, vacations in the sun."
"Embarrassing, depressing, and saddening."
"DSAP has ruined my life. Prevented me from doing what I love to do most, enjoying the outdoors. Low to no self confidence and no relationships.
"To me they are gross. I hate how they feel and look. I love to be outdoors hiking and jogging and I feel that I cannot do that without wearing clothes that are too hot. I am young and feel unattractive because of this. I do not date. I do not feel comfortable in shorts and I don't want to wear pants and long-sleeves the rest of my life. It's something that isn't life threatening but it doesn't feel good either."
"Between DSAP and other skin cancers I have basically become a recluse. I used to love to spend time outdoors, I no longer do. It has made me shy and withdrawn, my self esteem is in the toilet. I have difficulty finding clothing and makeup that will cover up my spots."
"Unfortunately it controls a lot of my life. I stay away from the sun and heat. I stay indoors during a lot of daylight hours and I'm embarrassed about going anywhere without long sleeves and pants. I'm not the person I use to be. Extremely depressing!!"
"It has made me ashamed to wear anything that shows my skin. It's very ugly to me and embarrassing. I love the water and summer. Now I just want to make excuses when friends and family want to do something that I would have to be exposed."
"Having extremely ugly extremities as a young, active 41 year old woman is a giant bummer. I wear pants and long skirts all summer, even when exercising in 90 degree weather. I feel ugly and unattractive…not healthy. I choose not to swim with my young boys, I hate beach vacations…I am drag to be around in the summer."
"DSAP has caused depression, change in daily activities and vacation choices, issues w/ dressing my age due to finding cute clothes that don't look too old, gained weight due to depression, marriage/ intimacy issues."
Here are some of the less negative comments (clarification, no comments were positive, just varying degrees of negative):
"I ignore it and get on with life but sometimes feel self conscious."
"DSAP has not affected my life significantly. Yes, it looks ugly but I don't really care. It does help me remember to put sunblock on."
"I do what I've always done but I'm self conscious about  my lets and rarely wear shorts"
"I actually do most everything the same. I wear a lot of sunscreen when I go in the sun, but I still do and I vacation. Honestly, I don't think it really makes it worse."
"It hasn't changed my life. I tried sun avoidance for 3 years but that made it either worse or more noticeable. I now go out in the sun again, albeit later in the day and wear what I like with high factors of sunscreen."
"Can't say it has changed anything really, apart from having to wear high factor sun cream all the time. I certainly wouldn't let it stop me doing anything."
Treatments- What's Worked? What's Not Worked?
Read the results of the treatment survey here.
[grwebform url="http://app.getresponse.com/view_webform.js?wid=4602701&u=VqSj" css="on"/]