NOTE: on July 18, 2016 I updated the tabulated chart at the bottom of this article so it is up to date. There are over 600 people who have taken this survey, the chart below reflects that.
People with DSAP are always seeking solutions to treat, or better yet, cure the disease.  But there isn't a central place where treatment options are presented in a comprehensive format.  But now, In the largest survey of people with DSAP (almost up to 300 respondents) we ask the question " which medical treatments have worked and which haven't"   We share those results here.
Notes
1. We couldn't include results that were not specific. Many people could not remember the name of the medication they tried and just said "creams did not work". Only responses that called out the medication either by the brand or medication name were considered.
2. If the treatment was considered successful or "sort of" successful we included it in this list.
3. Finally, after reading all 300  reports of treatment types it's clear that what some people consider successful others think is a failure.  Some people tried medication and it may have worked, but since lesions continued to return, they considered it a failure. Other people realize that nothing is going to cure the disease so the goal is to stay ahead of it.  In other words, the medication is just  minimizing the number of lesions not solving the inherent problem.
Allow me to editorialize here for a moment; nothing currently available is going to cure DSAP. So for now, the best we can hope for are tools to control the number of spots we have and to improve their appearance.  For some people itchiness is something to overcome as well. Also, in many cases we're dealing with the lesser of two evils. A treatment that has worked for me the taz/efudux protocol, removes stubborn lesions on my arms, but during the treatment is super itchy, red, scabby and horrible looking  (Lasts 2-4 weeks) and the end result is smoother skin, no more lesions but a white spot.  I prefer the white spot over the red lesion.  Of course in a perfect world I would prefer lusciously gorgeous golden skin, but that isn't in my cards.
Here's the list.
1. Freezing/ Crotherapy was by far the most common and popular treatment.
60 people reported they have tried Cryotherapy at their doctor's office or have tried the Home Wart Removal Freeze Kits. (read more about those here: Wart Removal Kits)
73% said that Freezing was successful
The biggest complaint is that most people have far too many to freeze off so can only freeze off the most bothersome ones.
2. Tazoratene/Fluorouracil (taz/eff) Protocol
13 people reported they have tried this protocol which you can read more about here.
85% said it was successful
The biggest complaint is that it is very itchy and may leave a scar or white patch. You can see some before and after photos here.
Note: People who only used Efudux/ Fluorouracil WITHOUT the Tazorac had a much lower success rate (only 40%) For some reason, dermatologists like to prescribe Fluroucail on its own without the Tazorac and this just doesn't work.
3. Dovonex (calcipotriene)- a synthetic form of vitamin D used to treat plaque psoriasis. 
Only 5 people tried it but 4 (80%) thought it was successful. One person said it worked even better when mixed with RetinA.
Medical References of Calcipotriene and DSAP:
4. Diclofenac topical (Pennsaid, Solaraze, Voltaren Topical). Solaraze is marketed to treat warty over growths of skin (actinic keratoses) on sun-exposed areas of the body. The others marketed for those with for arthritis.
50% of respondants said that this was a successful treatment. The biggest complaint was that it takes a really long time to work. One person said the main benefit is that it fades the red color of the lesion.
Medical References of Diclofenac and DSAP:
5. Photo Dynamic Therapy (PDT) Blue or Green Light
16 People tried PDT (The majority used blue light) and 56% said it was successful.
Medical References of PDT and DSAP:
 6. Pulsed Dye Laser
Only 3 people tried this and 2 said it was helpful. Read more about Pulse Dye Lasers here: http://www.dermnetnz.org/procedures/pulsed-dye-laser.html
Click to Read medical references 
7. Trichloroacetic acid (TCA) Peels
Only 1 person tried this and reported that it was very successful. Learn more about TCA peels here: http://www.chemicalpeel.org/tca/
8. Picato (ingenol mebutate) gel, is prescription medicine used on the skin to treat actinic keratosis
Just 2 people reported using Picato gel and one of them said that it was very successful.
9. Dexamethzone,  a type of steroid medication. used for the treatment of many conditions including: rheumatologic problems, a number of skin diseases such as erythema multiforme, severe allergies, asthma, chronic obstructive lung disease, croup, and cerebral edema
Only 1 person tried this and reported that it was very successful.
Medical References of this drug and DSAP
9. Retinol
Seven people tried retinol in some form and zero said that it worked.
10. Imiquimod (Aldara, Zyclara) (for the skin) is also used to treat a minor form of skin cancer called superficial basal cell carcinoma, when surgery would not be an appropriate treatment.
Five people tried this medication  and only 2 thought it was somewhat effective.
Medical References of this drug and DSAP:
11. Yag Laser- (neodymium-doped yttrium aluminium garnet; Nd:Y3Al5O12) is a crystal that is used as a lasing medium for solid-state lasers.
One one person reported trying the Yag Laser and reported that it was not effective.
Medical References of this drug and DSAP:
Read the full survey results here.
FOLLOW UP
Here are the tabulated results of about 600 people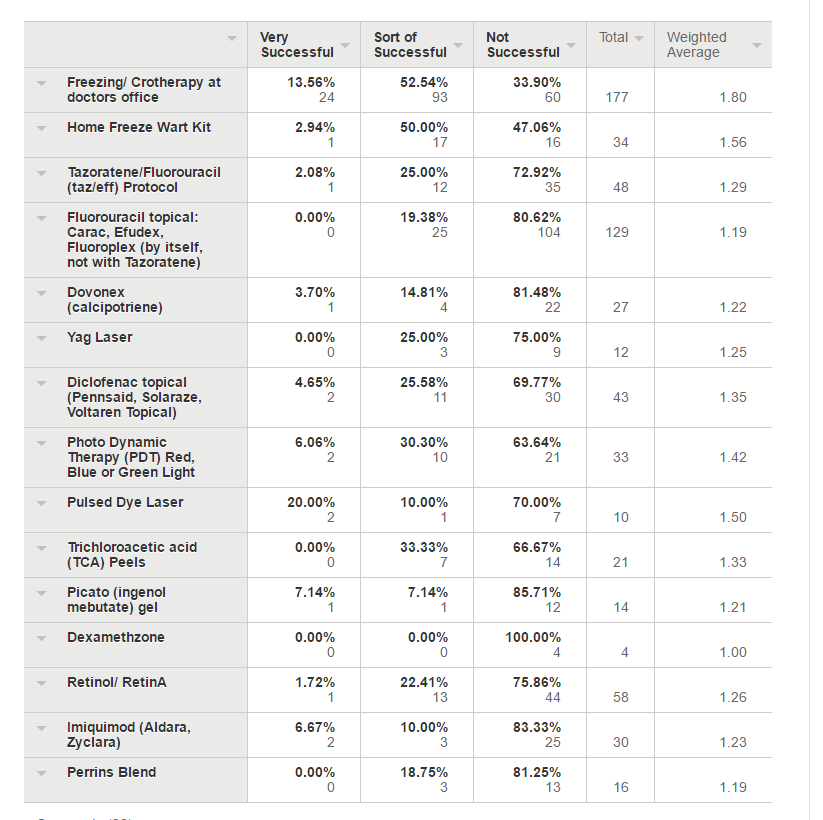 Comments
Neotigason in combination with VU-B verry succesfull. All the other treaments falled.
I was in a research study for AKs and the Picato really helped with the DSAP. The strength that was used in the study is not on the market yet. My arm blistered and peeled for about two weeks, but it was worth it. My right arm is really smooth
The treatment with Fluorouracil topical removed the spots and groups of spots I treated on my forearms. Other spots have appeared since, but it's been about three years since the treatment.
"staying out of the sun" = hasn't helped
Clobetasol sometimes works
Acitretin with blue light – very successful
Salicylic Acid. Unsuccessful.
Chlorinated Pool Water-Works really well
Zyclara. Amazing results.
If you haven't taken the survey, please do. Click here.
What's worked for you? Please let us know the things you've tried that have worked and those that have been a big disappointment!