It's been about a year since I last did the taz/Efudux routine on my arms. Now that it's winter in New Zealand I'm going to do another round as I've had new spots appear on my hands, sadly they are very red and noticeable. I will chronicle the results of my treatment here.
I tried using the wart removal freeze kit that has worked for many but my spots didn't even blister up. So I have had to use concealer to hide the spots on my hands. Here's a list of concealers that work.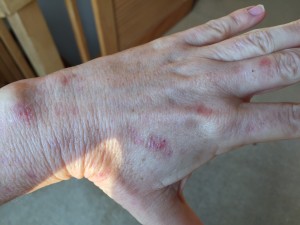 I even have a spot on my finger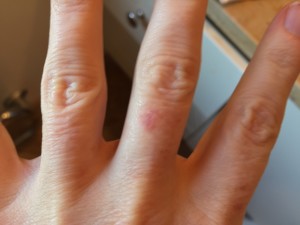 In the past I have tried the Taz/Efudux routine in the traditional way– 14 days Taz followed by 14 days of Efudux. Quite honestly, I usually never finished the last 14 days because I couldn't tell that the Fluorouacil (efudux) was actually doing anything.
Someone told me about doing them together because Fluorouacil (efudux) is a skin cancer treatment and until you make the skin cells look 'weird' enough by nuking them with Taz, the Efudux can't really help.  I also like the idea of having the whole thing done (not including healing) in 14 days.
About 5 days ago I started the treatment applying one cream in the morning and the other cream at night. The photos below are from day 2. At that point there had been no change. I normally never see a change until about day 10 and then it all becomes very red, itchy and painful looking. Here are some photos from the last time I tried it out.
The spots on my forearms are plentiful, but they have been nuked so many times they are not red or noticeable, but I can feel them. The ones you can see below are on the back of my upper arm.
I will continue to post the results of this experiment here.
July 19,2015
I have now finished the treatment.  I didn't see any change at all until about day 11 which is consistent with the other times I have done this treatment.
What is different  this time is that I applied Tazorac and Flourouacil together, one in the morning and one in the evening.
But the results have been underwhelming.  I don't know if the lackluster results had something to do with this combination of creams or if my spots weren't as bad as last year.  After 14 days last year I had many scabs and it looked quite raw, this time it's just a few scabs and some flaky skin. The disappointing thing is that it didn't affect the ones on my hands at all, so I'll keep applying.
The conclusion to my experiment is somewhat inconclusive.
1) Did the Fluorouacil (efudux) minimize the development of the scabs? For some this may be a good thing. This time the itchiness and discomfort overall was very mild. But at the same time if you're going to bother with it you want the treatment to nuke as many lesions as possible.
2) Or were the unremarkable results because I had done this treatment just the year before.
One conclusion I can draw, at least for myself, is that these creams don't affect spots on hands or feet.  I'll keep trying, but i have tried several times before without any luck.
Another conclusion I can draw is that for me, the Fluorouacil (efudux) doesn't do much at all. When I did 14 days Tazorac and 14 days Efudux I saw no changes after starting the Efudux
Next up is legs. This time I'll skip the Efudux and just use Taz.  It's been a couple of years since i did legs and so they need it. In my experience the thighs get good good results but the calves not so much.
Here are some photos.