I have a skin condition called disseminated superficial actinic porokeratosis (DSAP) which is brought out by the sun, so during the summer I try my best to slather on the sunscreen . But I naively believed that during winter I didn't really need to protect my skin. I know the skin care professionals say you should wear sunscreen no matter the season, but I really didn't believe them, until I read an article  by Dr. Cynthia Bailey, a dermatologist in California.
To paraphrase Dr. Bailey: the UVB rays that cause sunburn are indeed less intense in the winter but UVA rays are out in in full intensity all day long, all year long, no matter the season or time of day. This means January or July, morning or afternoon, you're getting the same amount of UVA. And it's the UVA that penetrates skin at a deeper level (deeper than UVB) causing skin damage and wrinkles.
And, you probably didn't know this: the SPF value on your sunscreen tells you about UVB protection, not UVA. So you're skin is left vulnerable!
The moral of this story according to Dr. Bailey: Don't slack off on your sun protection just because the sunburn ray is less intense and the sun feels less damaging. You need to take UVA seriously, which means you need really good protection from UVA.
What advice does Dr. Bailey give?
1. Keep the sun off your skin with sun protective clothing and a hat. This is definitely is easier than reapplying sunscreen every couple of hours and is the only sure fire method of keeping sun off your skin.  Be sure to wear clothing with a  UPF 50 rating (UPF is to clothes what SPF is to sunscreen). Check out my article on Sun Protective clothing that gives you a comprehensive list of all of the brands available. Here are a couple of my favorites:
 Summer Skin —Sun Protection Meets Style! Cancer survitor Summer Kramer started Summer Skin in 2007. I love this line. It's UPF 50, affordable and has some really wearable pieces. Check out the Endless Summer Scarf ($49). It can be worn as an infinity scarf, shoulder wrap, instant hood and skirt.  It's small and light enough to throw in your bag or purse and you're set for the day.
COOLIBAR  One of the more established brands in UPF clothing, Coolibar's frocks are all UPF 50. Their range features casual wear, fitness, bathing suits, hats and petite, plus sizes. They have a great assortment of really cute rashguards, but their surf leggings (long swim pants) are not so cute. (See my article about Surf Leggings for better options) They also have lots of casual wear. Prices range from about $50-$90.
2. Wash it out! Another really cool ninja trick for those of us who must keep the sun off our skin lest we look like we have the measles, is to wash clothes in a special detergent that actually makes your clothes more sun protective:  According to the company, when you wash SunGuard into a garment it's new sun protection power will last on average for 19 washes.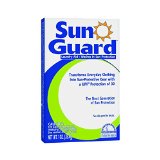 3. SLATHER IT ON! We can't cover ALL of our skin. There's your face, neck, hands, ears and possibly feet if we're wearing flip flops (I have the worst DSAP spot right on my foot probably because I wear sandals all year long). Winter sunscreen should block UVA (Remember, the SPF tells you only about UVB protection, not about UVA protection). According to Dr. Bailey, to protect from UVA you need to use a product with 5% or more micronized zinc oxide.   Be sure to verify that the zinc is listed at 5% or greater.  She recommends these products that have broad spectrum UVA/UVB protection:
4.  Antioxidants! Are you using concentrated antioxidants in your skin care routine? The best are the green tea polyphenols, vitamin C and E but beware, not all products are created equally! Dr. Bailey says with the right products, her patients get fewer precancerous lesions. She trusts these super potent skin care powerhouses:
1. Replenix CF Cream to deliver potent antioxidants 
2. Green Tea Antioxidant Skin Therapy – Replenix Power of Three Cream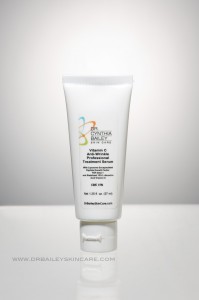 3. Vitamin C Professional Cell Repair Serum which is a high-concentration liposome encapsulated stable L-ascorbic acid vitamin C combined with the peptide growth factor TGF-beta-1.

5. Myths & Rumors Dr. Bailey urges not to listen to people who tell you to get sun to prevent a vitamin D deficiency. Guess what?  UVA doesn't make vitamin D in your skin!
So whether you  have disseminated superficial actinic porokeratosis (DSAP), or one of the many other skin conditions that require protection from the sun like Solar urticaria, Psoriasis, Darier's disease, Chronic actinic dermatitis, lupus, connective tissue disease or Actinic folliculitis, you can benefit from protecting yourself from UVA rays that are equally as strong in the winter as they are in the summer.
What about you? What products do you use or recommend for Fall/Winter skin care?